Skyscanner : The (almost) Billion Dollar Tech Firm Bringing a Slice of Silicon Valley to Scotland
Edinburgh based global online travel and flight comparison search engine Skyscanner, which started as an Excel spreadsheet and now serves almost 30 million visitors per month across the world, has brought a slice of Silicon Valley to Scotland.
Skyscanner is a global online travel and flight comparison search engine. Founded in 2001 by Gareth Williams, with a goal to become the default choice for travel, the company now serves almost 30 million visitors every month in more than 30 different languages. Their app has been downloaded over 20 million times, contributing to an annual turnover of over £30 million in 2012. And after a decade quietly working their way up from their headquarters in Edinburgh, they now have offices across the world in Singapore, Beijing, Miami and Barcelona, and a recent funding round saw them valued at a staggering $800 million.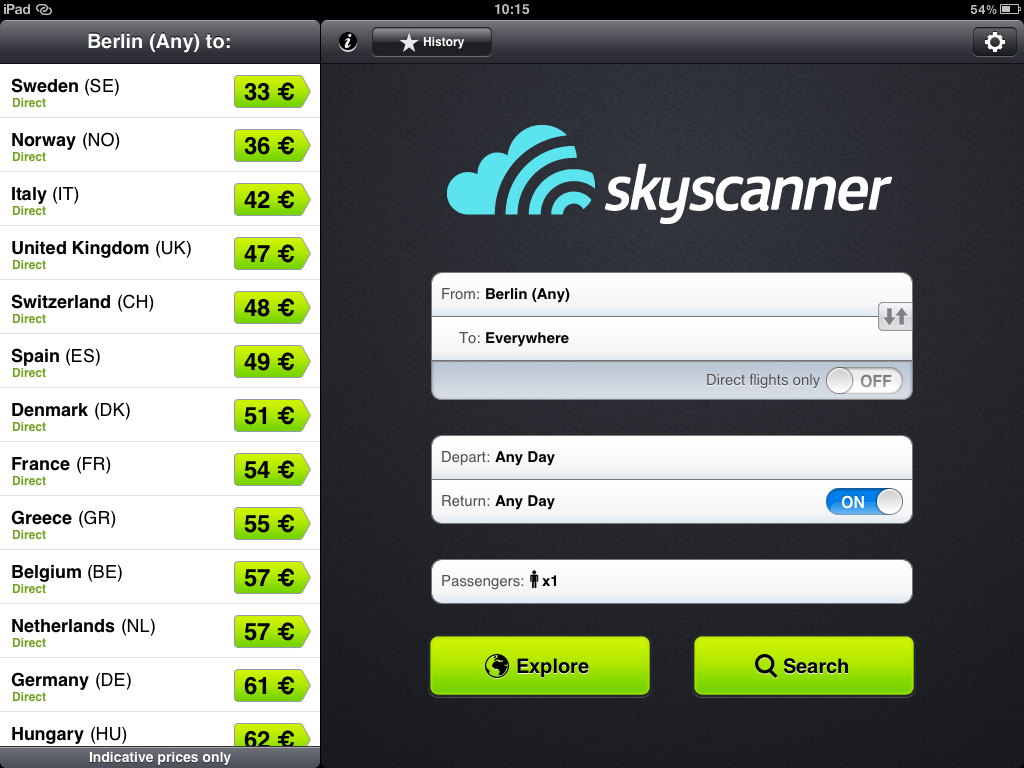 Skyscanner Story
In 2001, fed-up with trawling airline websites searching for the best deal, Williams – a graduate of Mathematics and Computing from Manchester – compiled a spreadsheet showing every flight option that was available to him. Starting from this bright idea – with no business model, market research, or revenue plan in place – he and co-founders Bonamy Grimes and Barry Smith set out to create a system that would collect, collate and compare the prices for every commercial flight in the world, as fast and conveniently as possible.
Officially launched in 2003 – the same year they hired their first employee – the first years of Skyscanner were entirely self-funded. It was only in 2004, after a great deal of unpaid labour that they finally decided to give up their day jobs.
In 2007, their first round of funding saw them sell a £2.5 million stake to Scottish Equity Partners. And the company – thanks to both the significant funding and affiliate deals with 60-70% of all airlines – hit profitability in 2009. Skyscanner has now broadly doubled either its users or revenue every year since launch, by 2011 claiming the title of number one flight search engine in Europe.
Building a Global Future
More recently, Skyscanner are focusing on expansion. In 2011, they acquired Zoombu, a travel-tech start-up, which they have initially worked with to develop rail search capabilities. They have launched a car-rental search facility. And in October 2013, they acquired Barcelona-based hotel search firm Fogg, in order introduce an in-house hotel-search tool.
These acquisitions coincide with Skyscanner's global expansion plans. In 2011 and 2012 they opened offices in Singapore and Beijing to grow the Asia-Pacific market. And their newest office has opened in Miami, which will be the base for expansion in the US, Canada and Latin America. Shane Corstorphine, Skyscanner's chief financial officer, recently revealed that, "the business is on course to double 2012's £33.5 million turnover, with both the Asia Pacific and Europe zones performing strongly and a recently opened Miami office helping the company address the north and South American markets better".
And their plans for future growth seem to have been secured by a recent investment from Sequoia Capital. The California-based firm – perhaps the ultimate investor which has previously backed the likes of Apple, Google, Linkedin, YouTube and PayPal – valued the company at $800 million, bringing this humble, Edinburgh-grown tech firm to a position alongside the American giants.
---
---
---