Jensen Huang: The Man Behind Your Game's Graphics
If you have ever marveled at the smooth graphics in your favorite video game, then there is a good chance you have Jensen Huang – or one of his team – to thank for that. Huang is the co-founder – and president and CEO since the company started – of Nvidia Corporation, a US multinational tech company based in Santa Clara, California.
Beginnings
Huang was born in Tainan in Taiwan and his family then emigrated to the U.S., first to Kentucky and then to Oregon. He studied electrical engineering at Oregon State University and then went on to get his master's in the same subject at Stanford University in 1992.
After graduating from Stanford, he worked as a microprocessor designer for AMD Inc. (Advanced Micro Devices) and was also a director at LSI logic.
Birth of a Giant
Om Huang's 30th birthday – 5th April, 1993 – he founded Nvidia along with Chris Malachowsky, and electrical engineer at Sun Microsystems, and Curtis Priem, who had previously been a graphics chip designer and senior engineer at Sun Microsystems.
The three friends and colleagues believed that there was a lot of potential in pursuing developments in the areas of accelerated and graphics-based computing. They saw how the video games market was thriving and also developing quickly and offered large sales volumes if done correctly. They decided to make video games and better graphic the foundation of their company's work.
They started Nvidia with only $40,000 in capital but quickly attracted $20 million of funding from venture capital firms such as Sequoia Capital and others. When they first launched, they did not have a name for the company but needed one to incorporate the business legally. In those early days, all three had NV in file names (for Next Version) so they investigated words that had NV in them and found "Invidia", the Latin word for envy, so they dropped the 'I' to give their company a unique name.
From Private to Public
The company saw steady growth throughout the 90s and built a solid reputation for fast and high-quality graphics cards and other products. Their release of the RIVA TNT in 1998 exemplified their increasingly growing reputation for developing high end graphics adapters. 1999 saw the release of the GeForce 256 which brought in very advanced video acceleration, motion compensation, and other features.
Because of how successful these products were, Microsoft awarded Nvidia the contract to develop the graphics hardware for their new Xbox games console. This earned Nvidia a $200 million advance, though it did mean they had to divert their best engineers and designers away from other products.
In January of 1999, the company went public. Shares were initially priced at $19.69. Had you bought 100 shares at that point, four subsequent stock splits would have increased your share to 1200 shares and that initial investment of $1,969 would now be worth a staggering $291,652 (as of November, 2018).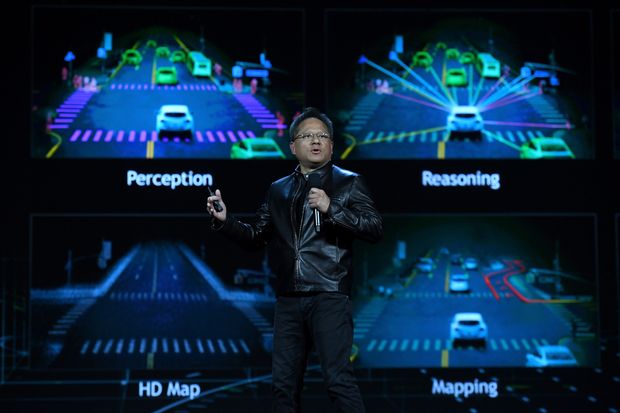 Giving Back
Huang is well known for his philanthropic acts. He gave Stanford University $30 million to build the Hsun Huang School of Engineering Centre. He also gave the Oneida Baptist Institute $2 million to build a new female dormitory and classroom building called Huang Hall.
He received the Silicon Valley Education Foundation's Pioneer Business Leader Award in 2007 to recognize his philanthropic and corporate work.
On a Personal Note
Huang met his wife, Lori, while at Oregon State as she was his lab partner. They have two children.
One story Huang likes to recount often is how, shortly after he arrived in Kentucky, he was sent to a boarding school in a rural area for troubled boys. His aunt and uncle had thought it was a private prep school. Luckily for Huang, when they realized their mistake, they immediately withdrew him.
Photos : ft.com – barrons.com
---
---