A Parisian Icon of Taste and Style : Sarah Lavoine
A Polish Princess, wife of a pop-star, daughter of a former Vogue editor-in-chief, and friend to the stars of the Paris fashion scene, Sarah Lavoine is the perfectly Parisian interior designer and businesswoman who's cemented herself as an icon of taste and style.
The Perfectly Parisian Style of Sarah Lavoine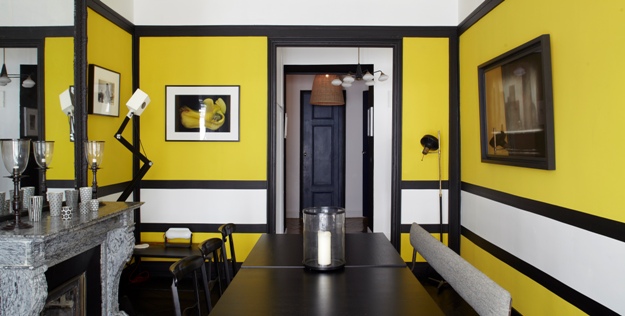 Establishing her interior design agency in 2002, the last ten years have seen Sarah Lavoine's name become synonymous with Parisian taste and style. Creating luxurious spaces filled with light and energy – transforming private homes, hotels, restaurants, boutiques and concept stores – Lavoine offers a very distinct aesthetic of life. With an effortless mix of sophisticated Parisian chic, craftsmanship and contemporary lines, her designs have strong personality and an understated quirky-touch. Antiques and glamour meet smooth organic curves, raw materials and a touch of the exotic, and bold Mondrian-esq yellows and vibrant blues articulate a palette of blacks and whites.
Interior Designer becomes Businesswoman
Moving from interior designer to businesswoman, 2012 saw the launch of her own decoration brand, and a showroom boutique located in the historic 1st arrondissement of Paris. Conceived as the ultimate Parisian apartment, the space presents her collection of table linens, tableware, furniture, objects, ornaments and accessories, alongside works by her personal favourite designers, artisans and artists. Enjoying success, a second 120 square metre boutique in the heart of the Left Bank's St. Germain de Prés followed at the end of last year. London is next on her cards.
Earning her Fashion Stripes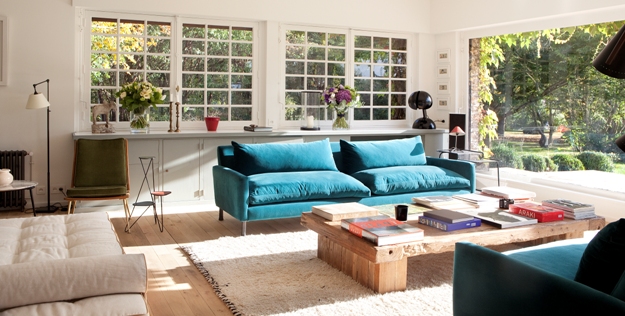 With a renowned interior designer Sabine Marchal as a mother, a former editor-in-chief of Vogue Paris as a father (a man who also happens to be a Polish prince), and French rock-singer Marc Lavoine for a husband, Lavoine certainly has cool-credentials in bucket-loads. Indeed, most recently she has turned fashion designer, partnering with old friend Juliette Swildens, creative director at French fashion brand Swildens, on a decidedly Parisian ready-to-wear capsule collection 'All Around the Clock'. Dictator of Parisian style Vogue Paris editor and personal friend Emmanuelle Alt signalled her endorsement with a hype-inducing appearance at the launch.
The New Corner caught up with Sarah Lavoine to find out more about her style
NC : What first drew you to interior design ?
Sarah Lavoine : After my studies, I wanted to be an actress, but I quickly realised that it wasn't for me. At 24, I decided to become an interior designer, and immediately felt like it was exactly what I was meant to do. My mother is an interior designer herself, so I think she gave me a good feel for this profession. My father, as Chief Editor of Vogue Paris, gave me the taste for travelling, for having an interest in other cultures and a passion for art.
NC : What are the key elements of great interior design for you ?
SL : The most important design elements are comfort, space and above all, light. Lighting is very important as it can affect the whole atmosphere of a room and is one of the first things I look at. To make a room welcoming, it is important to decrease the points of indirect light, and use subdued lighting and lots of candles.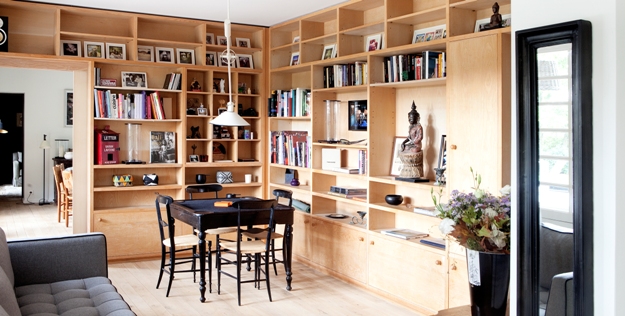 NC : Do you have any rules which you work by ?
SL : Not to be afraid to be daring and try out different colours and combinations. Above all, never go for the 'total look'.
NC : How would you define your style ?
SL : I would define my style as warm and contemporary, but at the same time timeless. I love timeless things, a mixture, mixing styles and periods. I certainly think that my style has a Parisian touch to it – I would say my apartment perfectly reflects this aspect of my style.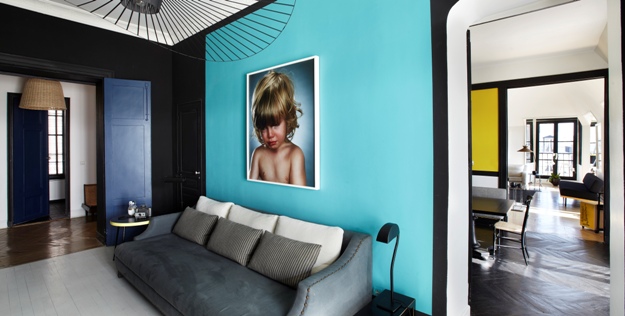 NC : And how do you work with colour ?
SL : Colour is certainly an important part of my style – I love to play around with colours and try out new ideas. My preferences are white and black with certain touches of strong colours.
NC : What inspires your work ?
SL : Travelling is a great source of inspiration. I find inspiration every time I travel, in every country I visit, in every hotel I stay in, in museums, in paintings, photos…. My father was also a major influence. As he was the editor of French Vogue for 15 years, I was always going to all the fashion shows with him as a child.
NC : Why did you decide to launch your boutique ?
SL : I wanted to find a space to showcase my new products as well as some of my personal favourites, such as the lamps by Paola Navone. The location is also perfect as it's situated just between my apartment and my office!
NC : What are your three favourite buildings in Paris ?
SL : Well my windows overlook some of the most beautiful monuments of Paris – the Louvre, the Tuilèries gardens, the Musée d'Orsay….I really am very lucky where I live!
NC : If budget was unlimited what would your dream project be ?
SL : I dream of going to lots of places in lots of different countries. If somebody offered me a hotel to do in New York or in Beirut, I would take it !
---
---
---