BMW Move to Expand the Electric Vehicle Market and Combat Charging Anxiety
BMW have announced two new programmes to reduce range-anxiety and encourage a broader move to electric vehicles. 
As electric car manufacturers work to grow their less than 1% share of the wider global vehicle market, BMW has announced two initiatives to take on one of the biggest obstacles to success: consumer anxiety over charging.
Free Charging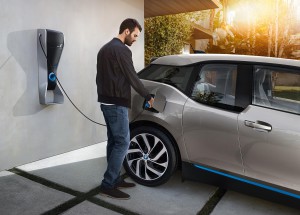 First, at the Plug-In 2014 conference in San Jose, the German manufacturer announced a deal with NRG Energy to allow owners of the BMW i3 electric car to recharge their batteries free of charge at any NRG eVgo Freedom Stations. Currently eVgo run a limited number of such stations, but the company plans to install over 100 in time for the programme's launch in 2015.
BMW's free fast-recharging offer – called ChargeNow – follows in the footsteps of key electric vehicle competitors: Tesla offers free recharging to owners of the Model S across their Supercharger network; and Nissan has recently expanded its No Charge to Charge programme which provides two-years of free charging across 25 key markets in the US. However, setting it apart, the BMW ChargeNow programme is only available to i3 car owners in California.
Fast Charging
Looking to expand their charging capabilities further, BMW have also announced the launch of a new DC Combo Fast Charger. The device – built in collaboration with engineering and automotive-technology company Bosch Automotive Service Solutions – is a compact charging station weighing around 100 pounds, measuring just 31 x 19 x 12 inches offering i3 drivers the ability to recharge batteries to 80% in 30 minutes.Although it delivers power at a lower 24 kilowatts, the device, which can be mounted on a wall, is much more functional than the larger full-sized 50 kilowatt version.
Adding to its attraction, this BMW-Bosch charger uses the standard SAE Combo plug system that has been widely adopted by other EV manufacturers, so a Nissan Leaf driver can plug-in as easily as a BMW i3 owner.
The device will be sold to BMW dealers and businesses interested in offering electric vehicle charging for $6,548, tens of thousands less than other fast-charging systems, and is expected to be in action by 2015.
Expanding the Charging Network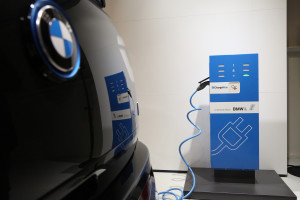 These two significant moves by BMW certainly act to grow the EV charging infrastructure, something that is essential if wider adoption of electric vehicles is to be achieved. While marketers of electric cars assure consumers that the typical driver would probably not exceed the current EPA driving range of 81 miles per day, so-called range-anxiety (a fear of the battery dying before a driver finds a charging station) remains a significant hurdle for the EV market to overcome.
Robert Healey, electric-vehicle infrastructure manager at BMW of North American comments: "We understand that a robust network of publicly available DC Combo Fast Chargers is a key part of the mobility of tomorrow".
---
---
---