New York's Hudson Yards Could Become the East Coast's Tech Centre
For decades, California's Silicon Valley has been a hub of digital and technological innovation. Home to many of the world's biggest tech companies, base for the headquarters of more than 30 of the Fortune 1000's companies, and a hive of activity for thousands of ambitious start-ups, the area has long been envied by the rest of the nation. Other cities have tried, and failed, to establish similar areas in an attempt to rival Silicon Valley, but none have ever come close. But with the rapid expansion of New York's Hudson Yards development, could that be about to change.
The groundbreaking for Hudson Yards took place in 2012, and the first of the two planned phases opened in 2019. Area-wise, it is the largest private real estate development anywhere in the U.S. With a total of 16 structures planned. 13 of them will sit atop a platform built over the West Side Yard, the storage facility for the Long Island Railroad trains.
There are two primary developers on the Hudson Yards site: The Related Companies, L.P. is a New York based real estate firm with over 3,000 employees and is also the largest landlord in New York City with more than 8,000 residential units rented out. The other is Canadian multinational corporation, Oxford Properties, wholly owned by the Ontario Municipal Employees Retirement System. With a portfolio that includes office, commercial, hotels, and residential properties, they have over 2,000 employees and around US$50 billion in assets.
The Last Frontier Available In Manhattan – Hudson Yards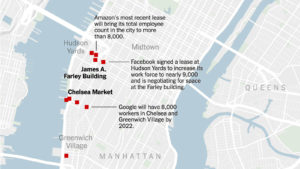 Hudson Yards was first conceived some two decades ago, seen as one of the last areas available to be developed in Manhattan. The city's Department of Planning even stated in their first press release: "There is one last frontier available in Manhattan – Hudson Yards, the underutilized area bounded roughly by West 42nd Street and West 30th Street, Eighth Avenue to the Hudson River. It is in these 360 acres that the City can meet its public responsibility to continue to provide job and housing opportunities for all New Yorkers."
The "all New Yorkers" part of that may be a misnomer when it comes to housing. Hudson Yards will be a glistening smart city of towering condos and carefully manicured green spaces, but at a price. A quick search of New York real estate listings provides several properties available in the development, including a wonderful two-bedroom condo at US$4.25 million. But while the housing aspect of the area may be aimed at high earners, what cannot be disputed is that it is expected to host more than 55,000 workers every day.
Hudson Yards Is Planned as a Smart City
One unusual fact about Hudson Yards that is worth mentioning is that to some extent, it owes its very existence to the city's failed bid to host the 2012 Olympic Games. That idea was rejected back in 2005, but what it did do was cause rezoning of the entire area, leading to interest from several developers and culminating in Related Companies taking on the project in 2009 and Oxford Properties later partnering with them.?
Hudson Yards is planned to be a smart city, and many people see it as a model for future communities where data is leveraged and monitored on a daily basis in order to manage services and the area as a whole.? Whether it is these ideas that are attracting tech giants to the area, or just the opportunity to own prime slices of virgin territory ? or as virgin as Manhattan gets ? is unknown. But Facebook, who had been looking for new premises in the city to host some 6,000 workers, had construction crews started on their new offices before the lease was even signed.
Amazon, Google, and Apple already have existing offices in the area
And they have some familiar neighbors in the area, and may have more soon. Amazon, Google, and Apple all either have existing offices along the river or are looking for new space. And the attractiveness of the 28-acre Hudson Yards area, which when completed in 2025 will have both residential and office skyscrapers, green spaces, cultural centres, retail space, and a school, will appeal to many others in the tech industry.?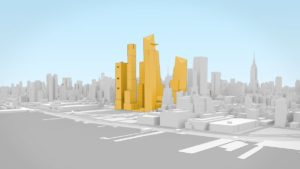 While the development ? and the area ? will never be a rival to Silicon Valley, it could become the primary tech hub for the East Coast. It may not offer the sprawling acreage of the Valley so will likely not be a base for the many startups that appear ? and often disappear ? each year, but for the bigger corporate tech companies, it could offer an appealing "community" of like-minded businesses and individuals.
Photos : The New York Times
---
---
---