A New Kind Of Social Network: Dave Morin, Co-Founder and CEO of Path
Dave Morin is swimming against the current with his mobile-only, ad-free, social network Path. 
Swimming Against the Current
Where Twitter and Facebook could be called advert-polluted noise, Path is their antithesis: a social network that allows users to share their private lives via photos, messaging, location check-ins, and personal "thought" updates with an exclusive group of family and friends.Founded by tech entrepreneur Dave Morin in 2010, Path is based on the Dunbar Number concept that human beings can maintain no more than 150 friends. Where Facebook builds cities, and Twitter builds newsrooms, Path is home, says Morin.
Having created his first company – DM Design Studios, a design focused technology and internet software company – whilst studying a degree in Economics and Business at the University of Colorado, Morin then got his wings at Apple where he worked in marketing. In 2006 he was lured to Facebook by Sean Parker, where he took up a position running Facebook's developer platforms. But in 2009 – after reading Mary Meeker's report predicting mobile internet would overtake the desktop – he quit the social network giant to set up his own mobile-only app.
Finding a Niche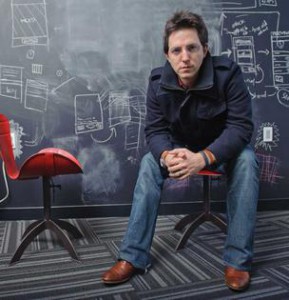 But whilst Path has now won awards for technology and design – a spring-loaded pop-up menu animation, Emoji smile icons, and parallax scrolling are just some of the features that users rave about – Path has been slow to catch on.
After showing strong initial growth across Asian markets, Path started to fade; and perhaps Morin started to regret his decision to turn down a $100 million acquisition offer from Google. With only 10,000 active users and a bundle of bad press, Morin admits the first version of Path was 70% failure.
In 2011 Morin launched Path version 2, a redesigned, simplified version, based on anthropological research. Since version 2, the original photo-sharing function has now been joined by "thoughts", songs, fitness features, messaging, ambient location tracking, and life-milestone archiving. And it has taken off.
More recently the team also introduced a stand-alone app called PathTalk, which hosts all messaging between users. Just like Snapchat, the messages disappear after a certain period of time. And now the network which had only 5 million users at the start of 2013 has reportedly surpassed 20 million.It's also estimated that Path is valued north of $300 million.
Finding a Path to Monetisation
However Path's identity is still not clear; and it can appear to be a jack-of-all-trades app that has drawn on every social trend going and bundled them into one. And a clear identity is not the only problem. In swearing off ads – Morin, unlike every other social network founder, has pledged no advertising will ever appear –it is also difficult to monetise. Selling photo filters and Emoji smile icon stickers – many of which, it must be noted, are designed by well-known artists and brands – is not a business on its own; only 2% of Facebook's 1.23 billion users buy virtual goods.
And whilst Path Premium, their newly launched subscription service giving users special features and storage for $14.99 per year, may go some way to reduce the burden, the odds are against Path getting social media users to pay where every other equivalent is free.
A brush with privacy has also tarnished the brand. In February 2012, the social media app designed to offer users intimacy and privacy was caught uploading users' entire address books to its servers without asking. They then faced similar questions last year when the company was accused of spamming UK users' friends with SMS messages.
A Long-Term Plan
Having quit Facebook, turned down Google, and rejected the Silicon Valley tendency for ads, Morin is clearly a man who goes against the grain. And whilst it's still not clear where Path is going, Morin says "We made this choice to swim against the current culture and commit to thinking for the long-term". Just like his angel investment company Slow Ventures, which focuses on staying committed to an idea for the long-term, let's hope this visionary tech entrepreneur can find a way to take his beautiful social network long-term too.
---
---
---