Linda Rottenberg: From Endeavor to the Power of Zigging.
Endeavor: To attempt (something, such as the fulfillment of an obligation) by exertion of effort. Endeavors to finish the race. 2 archaic: to strive to achieve or reach. intransitive verb.: to work with set purpose. endeavor.
The Merriam-Webster definition of endeavor sums up the mission of the company with the same name perfectly. Set up in 1997 by co-founders, Linda Rottenberg & Peter Kellner, Endeavor has grown to have a presence in over 40 markets, including Latin America, Africa, Asia, the Middle East, and some parts of Europe and the United States that are often overlooked. 
Endeavor's Entrepreneur Mission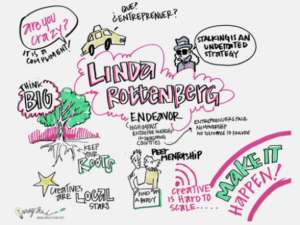 Rottenberg and Kellner realized that there were many entrepreneurs around the world who had innovative ideas that solved real problems. These entrepreneurs sometimes even had significant capital in place or even already had healthy revenue streams. What they all had in common was the capacity to grow beyond their current situation. Through mentorship and guidance, the two colleagues believed that new heights of potential could be attained and that those companies had the capacity to grow to be billion dollars plus entities. 
1997 may not have been the best time to start such an endeavor as Endeavor. The global economy was in disarray after the collapse of the Thai Baht and even without that factor, there were many barriers to entrepreneurship outside of certain areas. But they saw it as the perfect time to launch as they knew people with vision would be looking forward and not at the current situation. 
Careful Criteria
When choosing companies to support and mentor, Endeavor look to base decisions on merit. With over 500 team members working around the globe to identify potential partners, they cover almost all market types, from software to FinTech, from education to agriculture, etc. When it comes to evaluating new companies or individuals, Endeavor works from the foundation of three critical questions:
1) Can these entrepreneurs scale their companies at least 10x beyond where they are today (or even more than 10x if the business is currently under US$5M in annual revenue)?
2) Do they possess the growth mindset and values of the global Endeavor community?
3) Will the entrepreneur(s) multiply their impact by learning how to be thought leaders and role models, and by using our platform to pay their success forward?
Building Success with a Strong Network
Rottenberg and Kellner identified Latin America as a region with high potential and started their first projects in Chile and Argentina in 1998. They recognized at an early stage that having a strong network supporting their entrepreneurs was essential to both the success of the company and also of the chosen participants. They have built a strong network that comprises both business people at a local level as well as prominent figures on the global business stage.
Newtork members commit to paying a USD$10,000 annual fee as well as 2% of any liquidity event they participate in. Among the well-known figures who sit on the global board are Edgar Bronfman Jr. (Chairman of Warner Music), Reid Hoffman (co-founder of LinkedIn), and Emilio Azcárraga Jean (CEO of Televisa). Since 2007, Endeavor claims to have created over 100,000 jobs through their entrepreneurs as well as injecting billions of dollars into the relevant economies. 
Beyond Endeavor
But 43-year-old Rottenberg is about more than her CEO position at Endeavor. She is also the author of New York Times #1 bestseller, "Crazy Is a Compliment: The Power of Zigging When Everyone Else Zags" in which she takes a candid and often witty look at the world of entrepreneurship and how carrying that mindset over into other aspects of life can bring advantages. As well as topping the NYT book sales, the book has also garnered reviews from many of her peers and luminaries. Michael Dell, founder and CEO of Dell Inc. said: "Call me crazy, but I think Linda is onto something big here. She delivers powerful insights with her legendary wit and candor to show how everyone can think and act like an entrepreneur."
The book is about thinking outside the box, about taking risks without actually risking everything. Whether you are an established entrepreneur or business person, or whether you are just starting out, this book offers insights that may be of great benefit. 
Photos : csmonitor.com and adobe99u.com
---
---