From Fashion to Technology : Angela Ahrendts, Senior Vice President for Retail and Online Stores at Apple
From a small mid-western town in America to Britain's highest earning CEO and the newest darling of technology, Angela Ahrendts is a woman changing the face of global business.

As news broke in October of last year that Angela Ahrendts was to leave her position as CEO at Burberry to take up the role of Senior Vice President for Retail and Online Stores at Apple, Burberry shares dropped by 75p. £330 million was knocked off the value of the company in just a few hours. This was the stock exchange signalling its respect for the woman who, since taking the reins in 2006, has more than tripled Burberry's value to over £7 billion, doubled sales, and generated annual revenues of over £1.8 billion. Last year she also took home $26.3 million of her own, making her the first woman to top the list of highest-paid chief executives in Britain.
A Fast Ascent
Raised in a small mid-western town in Indiana by a spiritual mother and a philosopher father who once said he'd know he'd done a good job when she looked at a photo and saw herself last, her upbringing was 100% family. But the day after graduating from Ball State University, Indiana, with a degree in Merchandising and Marketing, Ahrendts moved to New York with her sights set firmly on fashion.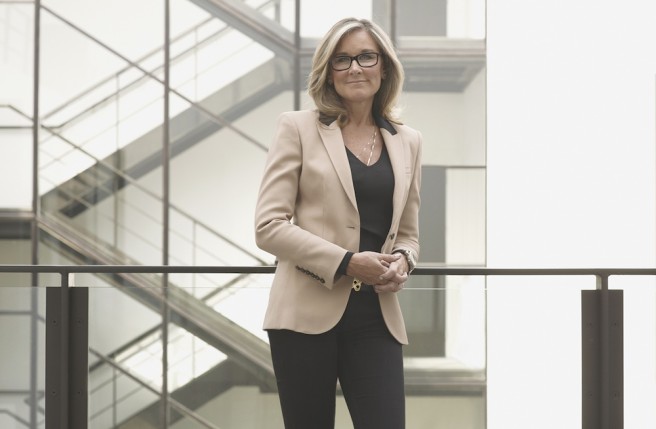 Her first executive appointment came in 1989 at Donna Karen, where she also met her future Burberry co-worker, Christopher Bailey. And after a brief stint at Henri Bendel, she joined Liz Claiborne Inc, where she rose to Executive Vice President.
Rebuilding Burberry
She was hired by Burberry in 2005. And when she arrived in 2006, the company was in trouble. The plaid had become synonymous with chav, and imitations had flooded the market – a scene most famously modelled by Daniella Westbrook (and her dog, her baby and her pushchair).
Immediately, Ahrendts limited the number of tartan print products and bought back 23 licences that Burberry had sold off. She also brought manufacturing back to Britain, centralising production in West Yorkshire.
But it was her innovative and tech-aware approach to uniting online and offline Burberry experiences – with social media at the core –, and her insightful expansion of Burberry's retail portfolio, particularly in untapped markets such as Asia-Pacific which now accounts for 35% of sales, that really reaped the rewards.
Realising her targets one year ahead of schedule, Ahrendts restored Burberry's historic reputation and repositioned the company as a tech-savvy global luxury brand.
That is why Apple hired her.
From Fashion to Technology
Angela Ahrendts talks about the positive and transformative power of human energy.
And Ahrendts "we not I" leadership approach, and her belief in the power of positive human energy to unite teams in achieving the extraordinary, couldn't come at a better time for Apple's 30,000-strong retail team who are suffering from low morale. Her ability to revolutionise online and offline store experiences similarly couldn't come at a better time for Apple's stores, which haven't seen change for five years, which are well behind online in sales, and which show little cohesiveness with the website or app. And her global know-how can certainly boost Apple's imperfect presence across the world, which currently sees the company without stores in several leading markets and suffering a slip to 30% in the world's leading smartphone market place, Asia, where they only have 10 stores.
Bringing her magic to this $20 billion business is perhaps going to be Ahrendts greatest challenge yet.
---
---
---