Christophe Lavigne : The French businessman who made it big in Texas
There may be a Paris in Texas, but we do not often associate the second largest state in the U.S. with France in other ways. One very strong link lies in the story of Christophe Lavigne, a French entrepreneur who has made Texas his home for more than 20 years.
Originally from Troyes, a town some 140 km southeast of Paris, Lavigne graduated from Dijon's IUT with a degree in Mechanical Engineering before moving on to ESARC Paris's business school. He also holds a DEESMA (Diplôme Européen d'Etudes Supérieures en Marketing – European Masters in Marketing).
Spine Implants
In 2000, Lavigne founded LDR Holding (LDRH), which would go on to be one of the world's leading companies in the field of spinal and vertebral implants. Under Lavigne's leadership, the company saw rapid growth over the next decade and was listed on Nasdaq in 2013. Spinal implants are special devices used during surgery for a range of spinal conditions including deformities, degenerative disc disease, scoliosis, kyphosis, spondylolisthesis, and fracture.
These devices have to be made from special materials that are biocompatible and which the body will not reject. There are two main types of implant; fusion and on-fusion. Fusion implant involve combining the implants with bone grafting and examples of these include rods, screws, plates, etc. Non-fusion devices include things such as growth sparing devices (used most often in children or in adults who have not reached skeletal maturity) and artificial discs.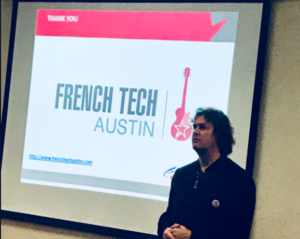 LDR Had a Presence in More Than 35 Countries, More Than 600 Employees
With LDRH stocks performing well on Nasdaq and the company continuing to grow, it was only a matter of time till a big player came sniffing at the door. That big player was Zimmer Biomet, an Indiana-based medical devices company that was founded in 1927. At the point they made a move for LDR Holdings, LDR had a presence in more than 35 countries, more than 600 employees, over 350 distributors across the U.S.A., and annual sales in the region of USD$185 million. The final sales price for LDRH was USD$1.1 billion, a good return for 16 years of hard work. Those 16 years also saw Lavigne win French "Entrepreneur of the Year" in 2006 and Ernst and Young's "Entrepreneur of the Year" for Central Texas in 2011.
Investment Tickets from €20 Million to €200 Million
Lavigne had a relationship with Keensight Capital from 2002 when they first became involved with LDRH. So it seemed inevitable that this long standing relationship would lead to new ventures after the sale of LDRH. Keensight Capital is a European investment company that mainly focuses on IT and Healthcare. They identify companies that are fast-growing and show long term potential and offer capital investment, as well as strategic and operational support. They offer investment tickets that can range from €20 million to €200 million.
In June 2019, Lavigne was appointed as an operating partner with Keensight. He will remain based in the U.S., and use his experience and entrepreneurial skills to help the company's Investment and Portfolio teams. One in his main roles will be to identify and source potential investment opportunities for Keensight that will add new portfolio value.
Rock and Roll!
You would think that having built a startup company into a business worth more than USD$1 billion and then joining one of Europe's leading investment capital groups that Lavigne would not have much time for hobbies. On the contrary, Lavigne almost lives a double life and is also a well-known guitarist and producer.
He started out playing guitar in rock bands in his native France, playing many gigs in bars and small venues. In 2006, he founded the rock band, "Arrows to Fire", and released two albums, both of which were produced by famed producer, Jacob Sciba, at the iconic Arlyn Studios in Austin. His next project will be his first solo album, produced by Matt Noveskey of Blue October, and Lavigne describes it as an energetic rock album with hints of Green Day and Stone Temple Pilots.
Lavigne seems to put the same amount of energy into his working life as he does to his musical projects. With his track record, it seems inevitable that he will be of huge benefit to Keensight and to any companies he offers support to.
Photos : frenchmorning.com / maddyness.com
---
---
---