Swiss investor Maurice Dabbah to build luxury boutique condos in Boston
Boston's skyline is rapidly changing under the proliferation of a new wave of luxury condos' development.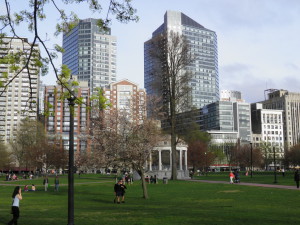 Swiss real estate investor Maurice Dabbah has proposed a luxury condominium project at 171 Tremont Street in downtown Boston.  Initially called for a 355-foot, 31-story tower the project has since been lowered to 255 feet and 20 stories to replace a vacant office building in Boston's Midtown Cultural District. The project that was presented in August at the Boston Civic Design Commission is designed by Elkus Manfredi Architects in collaboration with New York-based Grade Architecture who described the four-story existing building on the site now as "a missing tooth" on Tremont Street.
"Maurice Dabbah, who obviously is the key figure in this, really had a very strong vision for the project, which kind of makes it somewhat easier from our sense," Ross Cameron of Elkus Manfredi Architects said in an interview with the Boston Business Journal. "The building that's there right now is a missing tooth, and Maurice Dabbah saw an opportunity," Cameron said. "We have an opportunity to go back and really complete the fabric of this area. I think it's going to be in concert with a lot of the other residential development. It seems like it's the right time and the right location."
Boston's soaring commercial real estate attracts investment capital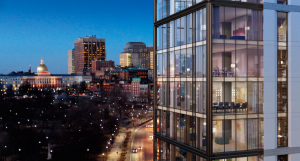 Maurice Dabbah's project, that beyond the residential tower will include a "pocket park", is being carried out within a context of a new town-planning dynamics where luxury condo developments, such as the Millenium Tower, are thriving in downtown Boston. According to the Boston Redevelopment Authority there are currently 70 projects under construction throughout the city. As BRA Director Brian Golden pointed out: "We're going through what is arguably the biggest boom in the history of the city of Boston".
With investment capital flooding the market comes along a fiercer competition. According to SNL Financial LLC, a Virginia research firm, the 25 largest banks based in Greater Boston have increased commercial real estate lending nearly 40 % over the past three years. Interest rates remain relatively low as billions are pumped into Boston real estate thus contributing in shaping the new skyline of one of the oldest cities in the United States.
Focus : Maurice Dabbah
Maurice Dabbah is a Swiss businessman with over 25 years of experience in international real estate investments. He has a large real estate portfolio in Europe and the United States. Maurice Dabbah has participated in a number of landmark projects such as the Mercuriales Towers in Paris, 1177 Avenue of the Americas in New York  and 10 Cours de Rive,  a modern office building in the heart of Geneva. He is also part of a consortium selected to develop the territorial expansion project of the Principality of Monaco.
---
---
---