News from La French Touch Conference
New York – 24th and 25th June brought the second annual La French Touch Conference, an event which supports French entrepreneurs looking to break into the US market.
French Entrepreneurship: La French Touch
Entrepreneur is a French word, and entrepreneurship is part of the French mentality; no matter what George Bush apparently once said. The past four years have seen more French companies on Deloitte's fastest-growers ranking than any other European country, and in both 2013 and 2014, a French company topped that list. Celebrating just that is La French Touch Conference, an annual event working to strengthen ties between French and American entrepreneurs.
Promoting both France-based start-ups looking to take on the American market, and US-based but French-run companies – "Startups [that] have kept their 'French Touch' spirit despite their implementation in the US" -, the 2015 conference (24th – 25th June) saw more than 500 French and American entrepreneurs, innovators, journalists, angels, and venture capitalists gather. Speakers included representatives from French and American companies such as Facebook, OVH, Sigfox, BlaBlaCar, Criteo, Eventbrite, Vayable, and MangoPay.
La French Touch Competitions
Alongside round table debates, presentations, and networking, the conference (held at official sponsor AXA's New York centre) also revealed the winners of two contests. The first, for France-based early stage seed start-ups looking to build on home success with a move to the US, was won by Evercontact, a company which utilises mining software to monitor emails and automatically update address books with the most recent information. It has already seen success in the US market, with 80% of its clients based there.
The second competition, fought between French start-ups founded in the US, was won by Rebagg, a site allowing women with too many handbags to sell them on. The site works in parallel with Trendlee, where buyers are able to bid for the bags. CEO Charles-Albert Gorra explains: the "high-end Upper East Side girl selling her Chanel doesn't want anything to do with the aspirational person buying it elsewhere in the US".
Shortlisted French start-ups included UniqueSound, which connects companies (e.g. ad agencies or brands) looking for original music with music composers; Curioos, a site for younger (lower budget) art buyers to browse original art works; travel app Clippcity which offers cultural and historical anecdotes about a user's exact location using geolocation on a phone; OnOff which using the cloud separates a phone from a SIM card allowing several numbers on one phone; and Adways, a new video advertising company.
French Success Stories
The conference is also an opportunity for French entrepreneurs to share success stories.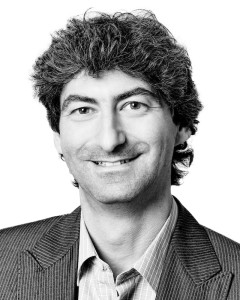 This year Jerome Lecat, CEO of Scality (which specialises in cloud storage and Big Data, and works with clients such as Dailymotion), revealed that the company has exceeded 500 million users worldwide, and is launching its first self-service trial for massive-scale software-based storage.
Alexandre Winter, CEO of New York-based Placemeter (which senses and unlocks Big Data to quantify real-time movement in physical places at scale), announced a new urban intelligence platform.
Ilan Abehassara, founder of Insensi (a high-tech hardware start-up which has already raised $2.4 million) announced the company's first product Ily, a Family Phone which seeks to improve long-distance family communication.
And Quentin Sannié, co-founder and CEO of Devialet (a high-end audio integrated amplifier funded by shareholders including Bernard Arnault) announced the company's entry into the US market with the opening of a shop in Soho.
The French Government invests in entrepreneurs
Axelle Lemaire, the French Minister of Digital Affairs, and Emmanuel Macron, the French Minister of Economy, Industry, and Digital Affairs, were also in attendance at the conference which is part of a wider effort by the French government to build the French tech scene around the world. Since 2013, the government has spent €2 million on incubator infrastructure, and has given entrepreneurs access to up to €1 million in funding ahead of any external supervision.
Publicly funded French Tech, an initiative to promote French start-ups at home and abroad, also announced that the French Tech label for cities which "carry a theme of excellence around which gradually builds the innovation ecosystem" would be awarded to eight new cities including Alsace, Avignon, Saint-Etienne, and Angers. And it revealed the opening of a new French Tech Hub (a French tech accelerator) in New York, adding to two previous Tech Hubs in Boston and San Francisco.
With this sort of investment, perhaps we will be seeing France re-claim ownership of the word entrepreneur.
---
---
---