Foresta Lumina: Multimedia Magic in the Coaticook Gorge Park
Moment Factory have transformed the Coaticook Gorge Park into a dazzling nocturnal walk, Foresta Lumina, a multi-sensory installation exploring the myths and legends of the park. 
Moment Factory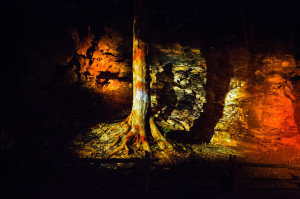 In the forests of theCoaticook Gorge Park (Parc de la Gorge de Coaticook) in Canada, where 28 kilometres of walking trails and the longest suspension footbridge in the worldsurround a 50-meter deep gorge, is the newest installation by immersive media and entertainment studio Moment Factory.
The Montreal-based company, which was responsible for the 2012 Super Bowl featuring Madonna, specialises in creating conceptual multimedia installations combining video, lighting, architecture, sound, and special effects in different environments. For the first time the studio has looked to nature.
Foresta Lumina
Drawing from the park's natural beauty and its myths and legends, Moment Factory have created Foresta Lumina, a nocturnal experience filled with folklore, fairy tales and magic.The immersive audio-visual experience utilises a dazzling display of lights, with illuminated installations and a carpet of LEDs across the forest floor, which work alongside video, projections, and smoke. Trees and plants glow in psychedelic colours, voices sound from the depths of the forest, and an accompanying musical score heightens the multi-sensory experience.
Creating Magic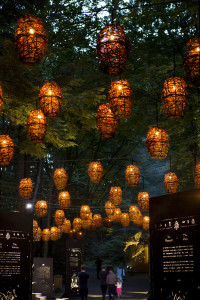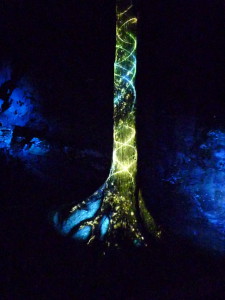 And as visitors follow the winding trail two kilometres through the dark still woods, they are introduced to seven mythical characters and creatures, from fairies and living trees to spirits of the forest. Each character is represented by a unique multimedia effect.
The technology that create these characters and their environment are seamlessly integrated in the surroundings, and therefore the result is something close to magic. Marie Belzil, Multimedia Director at Moment Factory comments: "All the generative and interactive new technology and software allows us to create pieces that are living, that are transforming. The technology really helped push the boundaries of storytelling in terms of how we can involve the public even more, how the public can participate."
---
---
---