BIGGIE GROUP : New playing field for serial entrepreneurs Anthony Spinasse and Olivier Goulon
Serial entrepreneurs Anthony Spinasse and Olivier Goulon, heading Gamned! since 2009, are setting out to conquer a new playing field! These two digital experts have joined forces with the investment fund HLD to create Biggie Group, a new European-scale media consulting and activation group, whose innovative model is based on its ability to bring together high-level strategic consulting skills, market-leading leverage and expertise.
"Supported by the backing of HLD, which has substantial resources at its disposal to accompany an ambitious consolidation project, and the unfailing mobilisation of all our experts, we will continue to develop Biggie Group and to support our clients in their digital transformation and acceleration, by further enriching our expertise and extending our geographical coverage in order to create a European leader in digital marketing." commented Anthony Spinasse and Olivier Goulon, co-founders of Biggie Group.

By combining strategic expertise, operational experience in marketing levers, mastery of data issues and the ability to mobilise the most effective technological solutions, Biggie Group intends to enable its 500 clients to meet their sales development, communication and marketing objectives, both in France and internationally.

Biggie Group has already announced the acquisition of Gamned! (previously owned by the TF1 group), as well as the media consulting agency Repeat. The acquisition of Gamned! provides Biggie Group with unrivaled expertise in programmatic buying, which has been developed over the past 15 years, but also enables it to place the mastery of data and algorithmic automation at the heart of its clients' marketing and business strategies. Repeat, whose excellence in media and marketing consultancy is recognised and acclaimed in the market, provides the group's clients with global strategic thinking in the articulation of resources, first-rate advertising space buying power on all online and offline media, and specialised know-how in the management of PR and influencer marketing campaigns.

Biggie Group is already positioned as a leading international player in digital consulting and activation, with more than 200 experts in 9 countries (France, Belgium, Netherlands, Switzerland, Italy, Czech Republic, United Arab Emirates, Malaysia, Brazil), working for more than 500 clients.

Gamned! & Repeat celebrate their union under the Biggie Group banner
On June 28th, Biggie Group organised its first ever event to celebrate the creation of the group and bring together the 200 employees of Gamned! and Repeat. To celebrate this new union, members of the group and employees of the two companies met on the deck of the Fluctuart barge in the 7th arrondissement of Paris. The evening opened with a speech by the co-founders of Biggie and Gamned!, Anthony Spinasse and Olivier Goulon, outlining the group's strategy. The president of Repeat, Philippe Bonnel, also took the floor to welcome this union with enthusiasm.

Biggie's objective was a success: the employees of both agencies were able, for the duration of an evening, to exchange and share a convivial moment with their future roommates for the first time! Shortly, the Biggie group and all its brands will be moving in together in a building in the 17th arrondissement of Paris.
About the founders:

Olivier Goulon is the CEO of Gamned!. After science-focused high school studies, Olivier Goulon went to the EM Lyon Business School to study marketing and finance. He graduated in 1995. Olivier Goulon began his career in marketing at L'Oréal before joining Atari as European Marketing Director. He then founded a video game publishing company that he developed in Europe and North America before successfully selling it to a Canadian group a few years later. He joined the FullSIX group in 2007 to create 6PM, the group's performance marketing entity, where he met Anthony Spinasse, with whom he founded Gamned! in 2009. Gamned! is the first French programmatic trading desk, of which he is now CEO.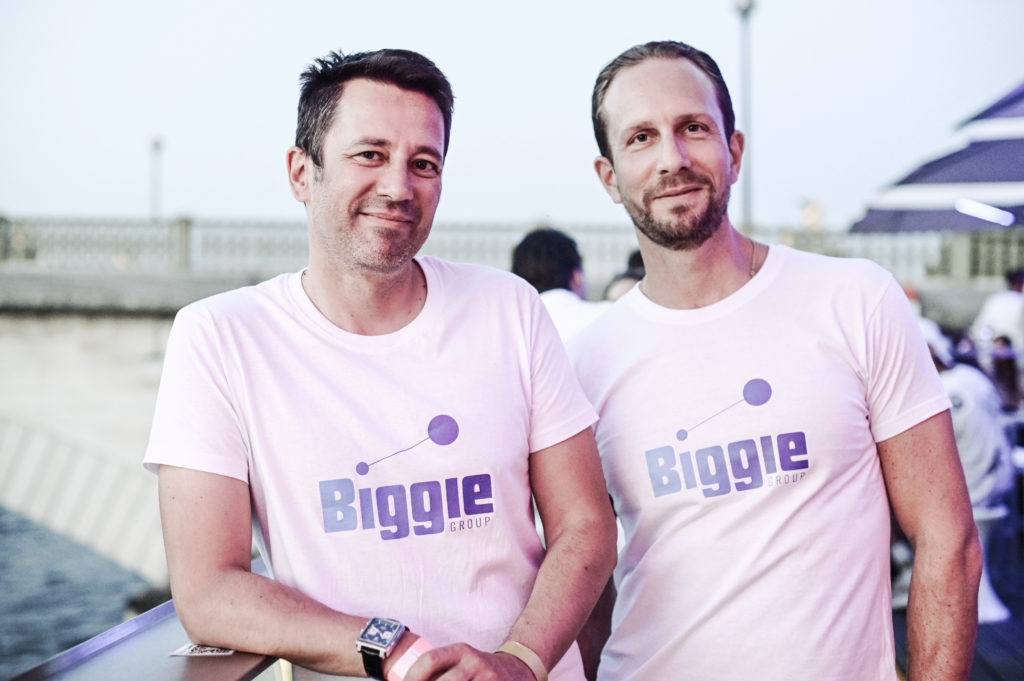 Anthony Spinasse is the COO of Gamned!. After a Master's degree in journalism and multimedia communication at ISCOM, from which he graduated in 2000, Anthony Spinasse became passionate about contemporary art. Nowadays, he manages a wine estate near Bordeaux (Château Marquisat de Binet – Montagne Saint-Emilion), and his eclectic career path is a reflection of his curiosity. As a young graduate of ISCOM, he started his entrepreneurial career by co-founding Le Studio Multimedia, a company specializing in the development and sale of digital apps. In 2006, he joined the FullSIX group as Associate Director. During his three years in this position, he met Olivier Goulon, with whom he founded Gamned!, the first French programmatic trading desk, in 2009. Anthony manages the Paris office of Gamned!. Following the company's international expansion, he was appointed as COO of Gamned! Group.
---
---
---