The Future of Mobile Money
Whilst mobile money has been the next big thing for around a decade, a universally accepted system has so far failed to emerge. But if we look toward Africa, perhaps we find the catalyst for change.
Money and the Mobile Evolution
Mobile has evolved at speed. And it now impacts nearly every part of our lives. For the 6 billion people who have access to a mobile phone, making a call is now only the sixth most common use, and forecasts suggest that by 2018, 61% of total global internet traffic will come from a mobile device.
But there is one area of the mobile evolution that has been slow: money. It's true that money is increasingly virtual; London's buses have exchanged cash for an Oyster card. And it's also true that there numerous mobile money apps available to download; from bank and transfer apps, to PayPal or Mobino. But so far there is no one system which allows any user to pay anyone or for anything in one click. Mobile money has been the next big thing for around a decade, but a universally accepted system has so far failed to emerge.
The Mobile Money Market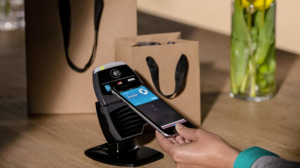 The mobile money market is estimated to be worth $1 trillion, and competition to secure the leading position is strong. Monitise must be a front-runner; it currently provides mobile banking to more than 350 global financial institutions and counts 24 million users across the world. The London based firm has seen shares boom by 80% in the last 12 months, and processes 3,200 requests per second, or three billion transactions per year. Also, last month, Apple launched its mobile payment contender, Apple Pay. Tim Cook reports it had over 1 million activations in the first three days, and is now more widely used than any competing payment system.
The Mobile Money Evolution in Africa
But long before the great and the good gathered in Cupertino to hear about Apple's latest offering, the mobile money evolution was in full swing in Africa. More people have mobile money accounts than bank accounts in at least nine African countries, and the continent claims 15 of the top 20 countries by mobile money usage.
The largest company is M-Pesa, which allows users to deposit cash in exchange for electronic money at authorised agents. Launched in Kenya in 2007 by Vodafone and Safaricom, it has seen an unprecedented take-up rate: within two years more than 20% of Kenya's population had registered for the service, and it now counts 12.2 million active customers. That figure means more than half the adult population of Kenya has access to formal financial services.
M-Pesa has since expanded to Afghanistan, Tanzania, India, and Eastern Europe. And companies MTN and Wizzit are helping to lead similar mobile money charges in South Africa, Rwanda, Ghana, and Uganda. A further 50% of the world remains unbanked meaning the growth potential is enormous.
A Catalyst for Change
With barely any status quo to overcome, and a lack of physical banks, poor infrastructure, and vast physical distances, Africa was rife for disruption. But the mobile money companies of the continent must also take some credit: they have successfully joined together a vast number of people on one singular system that also manages to meet their local needs.
Mobile banking will never take over in entirety. In the UK around 15% of cash payments are outside the taxation system, and in India that figure is around 40%; there will always be some demand for cash. But perhaps Africa will be the catalyst for change that proves mobile banking is not a fad, but the future.
---
---
---