The Beauty Entrepreneur for Social Times: Emily Weiss, CEO and Founder of Glossier
Having built a following of cult-like beauty fans with her blog Into The Gloss, Emily Weiss has launched the world's first digital beauty brand. 
Emily Weiss, CEO and Founder of Glossier
In a world of techpreneurs, Facebook programmers, Harvard Business School grads, and McKinsey consultants, Emily Weiss is a rare species: Teen Vogue intern and beauty blogger turned recipient of $10 million from some of the hottest venture capital firms in the world to launch a beauty product line. But don't let that lull you into a false sense of security, Weiss is not frou-frou and fluff. Indeed, this beauty entrepreneur is another ground-breaking, industry-disrupting Spiegel or Kalanick, and equally emblematic of the changing times.
Teen Vogue intern turns beauty entrepreneur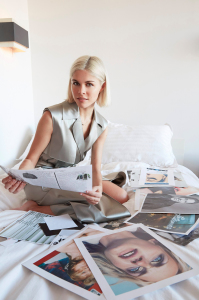 The 29-year-old, recently named one of Forbes' 2015 30 Under 30 in Retail, started out at New York University as an art sophomore more interested in a three day per week internship at Teen Vogue. After graduation, she worked at W magazine and with Elissa Santisi, a previous style director at American Vogue.
But during this prestigious media training, she spotted a gap in the media market for beauty coverage, and in 2010 launched a beauty blog, Into The Gloss. A mentor at Teen Vogue suggested she pitch to Lancôme's then ad executive Kerry Diamond – who said: "I felt like she'd just showed me what the beauty industry had been waiting for" –, and Into The Gloss took off.
Into The Gloss
The site is a reader's savvy, cooler friend – the person they want to be. Beauty tips sit alongside smart product reviews, thought-provoking essays, access to the makeup bags' of fashion editors, models, and actresses, and intimate interviews with Weiss's friends and connections about their beauty habits, life advice, and personal stories. The typically emotional features – which have included the confessions of Iman, Karlie Kloss, and Selena Gomez – give Into The Gloss an aspirational, and insider, feel.
Although Weiss won't discuss revenue, rumour has it Into The Gloss has been profitable since day one. But maybe more importantly than revenue in a social-online world, the must-read beauty site has also developed a cult following. Into The Gloss has more than 100,000 Twitter followers and almost 200,000 on Instagram, and gets 8.5 million unique page views a month. 60% of those readers check in almost daily; and they are voracious and vocal.
Glossier
During her three years immersed in beauty media, collating the go-to tips of the coolest in the industry, Weiss saw that there was also no beauty brand directly catering to her cult-like readers' needs. To fill the gap in the market, in 2013 Weiss raised $2 million and launched Glossier, a direct-to-consumer line of beauty products.
A new way of doing business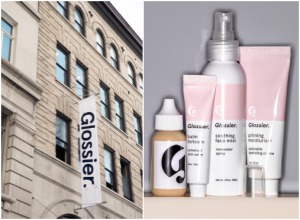 But rather than using the tactics of the traditional beauty industry, Weiss created and launched her brand solely online. She set-up an Instagram account, @glossier, gathered her loyal followers, and listened to what they had to say. "We told fans we were working on something" – but not exactly what – "and started to create the brand and identity on Instagram by posting pictures we were inspired by". The comments, likes, and favourites flooded in.
"Beauty is a quarter trillion dollar industry and it hasn't changed much," comments Henry Davis, Glossier's COO. "We saw an opportunity to change the brand relationship through technology."
Weiss also utilised her black-book of digital influencers, sending them Glossier-branded kit to promote and wear. When model Karlie Kloss posted a selfie posing in a Glossier sweatshirt, it got nearly 27,000 likes.
Beauty for real girls in real life
The real-time, real-life created Glossier brand now comes packaged in pink bubble wrap, in minimal pink tubes, with a set of emoji-like stickers that customers can use to personalise their tubes. And the products and the philosophy are equally informed.
The Phase 1 products (more will follow every six to eight weeks) are focused on skincare, designed to encourage women to really show their skin, whether it's "perfect" or not. Weiss says: "We're laying the foundation for a beauty movement, one that celebrates real girls in real life". The range includes a skin tint that "redefines foundation as being not something you use to pancake your face … but what you're born with".
Reworking the beauty industry
This is not the aspiration of a Chanel lipstick or Saint Laurent blush; this is a reworking of the beauty industry for how women really are now.
Weiss won't disclose sales figures, but says Glossier met its one-month sales goal in its first week and a half. The tech-friendly financers also love it: Glossier has now raised an additional $8.4 million in a Series A funding round led by the hottest in venture capital, including Thrive Capital and existing investors Lerer Hippeau and Forerunner Ventures. And the creator of the world's first digital beauty brand promises she will continue to reflect where beauty is over time.
---
---
---