RunKeeper CEO Jason Jacobs is Turning Smartphones into a Health Device
Mobile fitness app RunKeeper is looking to turn medicine on its head, as it builds a new health and fitness platform.
RunKeeper is a mobile fitness app that uses a device's GPS to track and map a run, walk or cycle. Founded in 2008 by Jason Jacobs, the app was one of the first 200 available on the iPhone, launching just weeks after the Apple App store went live, and so far has around 26.2 million users.
Building a Simple, Intuitive, Social Fitness Platform
Jacobs, who previously spent 10 years working in venture capital-backed tech companies, had the idea for RunKeeper in 2007 whilst training for his first marathon. Having discovered the Nike+ system – needing both footwear and sensor kit – was the only option on the market to help him train, he decided to build his own simple, intuitive, social fitness platform.
Available on Android and iPhone, and integrated with the Samsung Galaxy Gear smart watch and the Pebble, the app tracks and maps a user's route, pace, distance, time, calories burnt, and climb as they run, walk and cycle. The app then stores an interactive history of each activity, offering analytics and stats, and measuring progress.
With an option to set workout reminders and goals, such as weight loss, pace targets, and race dates, the app motivates users to stay off the sofa, whilst it celebrates records, personal bests and milestones. Users can also share their activities on Facebook and Twitter, and create personalised communities of friends and runners in the area, raising competitive training stakes.
Securing Strong Investment
Initially RunKeeper had one of the top 100 gross revenues of iPhone applications, thanks to their seed funding of $400,000 from Launch Capital. And following a venture funding round of $1.1 million, 2011 saw RunKeeper receive $10 million in series B funding led by Boston's Spark Capital, (backer of Twitter and Tumblr). Jacobs is using this money to grow the team, grow the number of users, and grow RunKeeper into something much bigger than a fitness app.
Changing the Health and Fitness Landscape
Realising users wanted to track more than just their run, Jacobs launched the Health Graph API, a digital map which tracks workouts, alongside an array of other health information.
The application programming interface – allowing different software to interact with one another – enables a host of health and fitness partner apps and devices to publish their data to RunKeeper's FitnessFeed, and contribute to the Health Graph.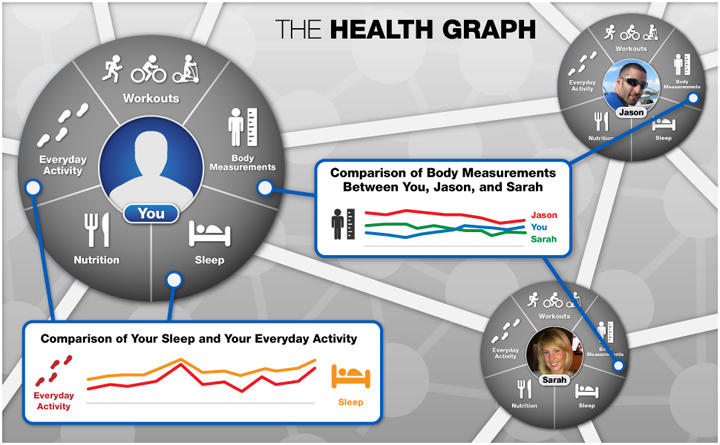 So far, it is integrated with over 100 such apps, including pedometers and heart rate monitors, and devices recording sleep, nutrition, calories, and blood-glucose levels.
In a company blog post, Jacobs explains: "Imagine a system that can identify correlations between a user's eating habits, workout schedule, social interactions and more, to deliver an ecosystem of health and fitness apps, websites, and sensor devices that really work, based on a user's own historical health and fitness data. The Health Graph has the potential to completely alter the health and fitness landscape".
"Whoever does what we're trying to do, I think a billion (dollar value) is small," Jacobs said. "I think there's almost no cap on how big the business gets that does what we're trying to do."
---
---
---