The Winners Games 2019: Children overcoming cancer through sports
A unique form of recovery, The World Children's Winners Games sees survivors of childhood cancer compete in an international sports competition.
Started in Russia in 2010, The World Children's Winners Games, better known as The Winners Games, empowers children aged between 7 and 16, who have overcome an oncological disease, to compete against each other in an Olympic style arena. Coming from all over the world, the children who have been in remission for at least two years, find strength and self-worth by participating in a range of sports, such as athletics, swimming, table tennis, shooting, football and chess.
The project was started by NGO Russian charity, Podari Zhizn, known as Gift of Life in the UK and Podari Life in the USA. Founded in 2006 by Russian actresses Dina Korzun and Chulpan Khamatova, Podari Zhizn raises money to help doctors treat patients with cancer, hospitals import medicine to Russia, and parents afford treatment for their children. The Winners Games is a voluntary project initiated by followers of Podari Zhizn that 'not only helps doctors and patients, but also helps individuals who have recovered become winners in other spheres of their life,' says Korzun. Since then, other foundations, companies and individuals have joined in on the effort.
The Ural Mining and Metallurgical Company and the Deti Rossii foundation for instance support local initiatives in Verkhniaïa Pychma, in the region of the Ural. Both the company and charity benefit from the counsel and support of Russian billionaire Iskander Makhmudov, renowned for his philanthropic activity.
The 10
th
Winners Games
In its tenth year, The X Children's Winners Games will take place in Moscow from the 4th to the 7th of July 2019. All participants are competing in six disciplines: track, chess, football, table tennis, swimming and shooting, despite age or physical fitness. All expenses related to accommodation, meals, entertainment and sports equipment are covered by The Winners Games organizing committee. Included in the program are workshops, excursions and concerts around Moscow.
Regional stages for participants are held across Russia and in Hungary, Bulgaria, Belarus and Kazakhstan. The winners then head to Moscow for the final competition. In 2018 there were nearly 30 Russian regions and 15 different countries competing with over 1,300 children. The tenth Winners Games is set to be even bigger with the inclusion of children from cities and countries around the world that do not have regional stages.
Sponsors and Celebrities
The Winners Games have many supporters in the Russian and international community. Renowned Russian athletes and celebrities present the awards to the winning children. Past sporting celebrities include Olympic speed skater, Sveltlana Zhurova, Olympian and president of the Russian Swimming Federation, Vladimir Salnikov, World Chess Champion, Vladimir Kramnik, biathlon champion, Olga Zaitseva, sledge hockey Paralympian, Vadim Selyukin, as well as actors Artur Smolyaninov and Alexei Kravchenko, and Grandmaster chess player Andre Sokolov, to name a few.
In 2015 the champions of The Winners Games met International Space Station cosmonauts Gennedy Padalka and Mikhail Kornienko and each year there is also the traditional football contest 'Fathers/Stars' which matches parents of the participants against famous actors. Concerts for the contestants and their parents have been held by musicians from the M. Turetsky Choir, Russian rock band Neschastny Sluchai and Latvian musical group Brainstorm.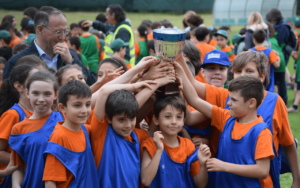 Future of The Winners Games
Although there are many organizations dedicated to ending childhood cancer, The Winners Games is somewhat unique. Utilizing sports and activities, the project gives gravely ill children the motivation to get better as well as for the founder of Podari Zhizn. 'Children return home with their medals showing off their accomplishments and it's from these proud moments that we derive the strength to move forward in our mission to provide medical care, access to medicine and ultimately to find a cure for cancer,' says Korzun. The World Children's Winners Games are about more than just a competition, it's a festival for those who have already scored an important victory – the victory over their disease.
---
---
---