Slack: The Fastest Company to a $2 Billion Valuation
Two-year-old Slack, hailed as "the office messaging app that may finally sink email", is the fastest growing startup to reach a $2 billion valuation.
Slack is taking over office communication
Two-year-old Slack, an internal communication tool hailed as "the office messaging app that may finally sink email" by the New York Times, is the fastest growing startup to reach a $2 billion valuation. It hit the mark aged 1.71 years old – younger than Xiaomi, Twitter, Snapchat, or even Uber.
Synchronised across desktop, laptop, tablet, and smartphone so users can pick up seamlessly across any device, Slack offers all the functions one would expect from an office communication system in one place: private messaging, group-messaging, group-chat channels, automatic archiving of interactions, an address book, easy drag and drop document and image sharing, and a search engine. But an integration with Twitter, Box, Dropbox, Stripe, and Google products such as Drive and Calendar extend its role in the office environment into something pervasive. (A further 400 companies are waiting for Slack to integrate their applications.) Slack is also playful and addictive: friendly and fun in look and feel it welcomes users each morning with an upbeat greeting; integrated with apps like Giphy and Spotify, users can post GIFs and playlists into conversation; and a full range of emoticons give it the feel of a social media stream. And perhaps most importantly, Slack also allows all members of a company or team to collaborate in big, open groups, wherever they are geographically, meaning broader company strategy can be made transparent, likely resulting in increasing an employee's connection to their work.
Slack has an actual Twitter Wall of Love
And Slack is popular – something that is conveniently corroborated by an actual Twitter Wall of Love. Famous fans include Comcast, Dow Jones, Expedia, Walmart, Adobe, The New York Times, SoundCloud, and, reportedly, NASA, along with a whole legion of start-ups.
Launched in late 2013 by Stewart Butterfield, the communication tool has already attracted 1.7 million daily active users as part of 30,000 teams (220,000 teams have been created, but not all are active). Since its public release in February 2014, it has grown at a weekly rate of 5-10%. Having raised $340 million, it is currently valued at $2.8 billion.
Slack founder Stewart Butterfield was also the creator of photo sharing Flickr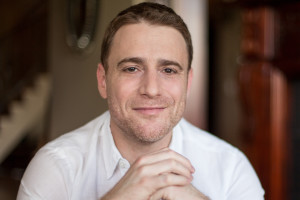 This is not the first startup experience for founder Butterfield, a University of Victoria and University of Cambridge graduate, who while studying the Philosophy of Biology and Cognitive Science and the Philosophy of Mind concluded in his thesis that: "the difference between living things and non-living things is that living things are alive! It took me 30,000 words to get that across".
His first company was Ludicorp, which he founded in 2002 to build a Massively Multiplayer Online (MMO) game, Game Neverending. It was a financial flop, but he and his co-founders were inspired to use the image-sharing technology that they'd created for the game to launch photo-sharing website Flickr. The team sold Flickr to Yahoo in 2005 for around $25 million, and Butterfield stayed on as the General Manager until 2008 when he left to have another go at an MMO game. Under a new company, Tiny Speck – now renamed Slack Technologies – Butterfield launched Glitch, which again went nowhere. But this time, Butterfield and his team of programmers had come up with a collaboration tool while developing the game. And by 2012 this tool had become Slack, which launched with a team of just eight people.
Defining a new product category
Butterflied says that one of the largest challenges in Slack's development has been showing users that this is a product category. When asked what they were using before, 70-80% of new Slack sign-ups respond "Nothing". Butterfield says: "But obviously they were using something. They just weren't thinking of this as a category of software." "Some people on the team might use Hangouts, some use SMS. We see groups that use Skype chat, or even private Facebook groups and Google+ pages." Butterfield has set a goal to teach customers that this is indeed a product category, and one they're currently filling poorly.
Because indeed, Slack is not a new concept. Group-messaging systems already exist in HipChat, Campfire, or IRC. And Google and Microsoft, Box, Quip, and Asana already offer similar products – 20-30% of Slack users have switched from one of these. But what sets Slack apart is that it is, currently, doing it best.
---
---
---