J. Crew Launches in London
Mickey Drexler – the man who dressed America – brings Americana Style to the UK.
Americana Launches in the UK
Perfectly American fashion brand J. Crew has departed the comfort of its homely North American shores, launching three new boutiques in London. A 16,000-square-foot flagship store on Regent Street – which opened with the release of hundreds of balloons through its front doors – is accompanied by a woman's boutique in chic Brompton Cross stocking the higher-priced line J.Crew Collection, and a menswear location on Lambs Conduit Street specialising in suiting.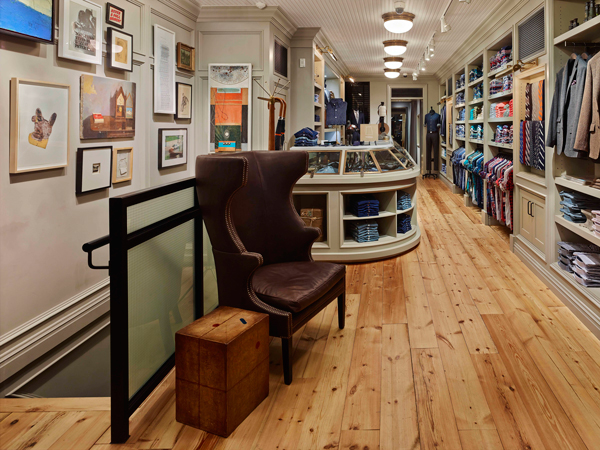 Exporting the American Vision
These UK stores aim to capitalise on the current global notoriety that well-publicised fans of the brand such as Michelle Obama and Anna Wintour have brought. The launch coincides with J. Crew reporting their fastest growing online business is in the UK market.
The Regent Street flagship stocks the exact same pieces as any one of the 446 stores across America and Canada. So UK shoppers can now buy the chambray shirts, vintage plaid button-downs, slim chinos, skinny ties, lashings of sequins, pastel cashmere and primary brights that provide the preppy scene of America.
Swapping Dollars for Pounds
However the launch has not gone without controversy. CEO Mickey Drexler and Creative Director Jenna Lyons have been forced to defend their UK pricing system. Following a practice of swapping dollar sign for pound, UK prices are nearly 60% higher than American equivalents.
Whilst Drexler argues that they are "frankly doing what most other people [with international businesses] do", Lyons told Vogue "we face airport taxes and duties here that we don't necessarily have in the States which is one of the challenges that you face by doing business in a country where you don't have a home base". Whether this will hold back baying customers, only time will tell.
A Lucrative Niche
J.Crew currently holds a lucrative niche in the market as one of the few middle price-point brands. It is therefore aspirational for younger clients, and a go-to for older and wealthier ones stocking up on basics. That position has paid off so far. The J. Crew Group, Inc.'s most recent figures (for 2013 third quarter ending November 2nd) reported unaudited sales results of $422.3 million. This is a revenue growth of $42.9 million, or 11.3%.
But – whilst plans are on the table for spring-time openings in Hong Kong and a move into Paris – it's clear that the success of the UK venture will determine any further global expansion.
---
---
---