French-Owned Tech Company, Dazzles Investors
Technology is an area that both financial commentators and investors keep a very close eye on. And one company that has been attracting a lot of attention in recent years is search service company, Algolia. The San Francisco based company was founded in 2012 by two Parisians, Nicolas Dessaigne and Julien Lemoine. Their focus was originally centred on providing offline search services for mobile phone users but now provide a wide range of search-based products and solutions to more than 7500 clients and handling some 60 billion user queries every month. 
Every year, the American business magazine, Inc., publishes its list of the 5,000 fastest-growing companies that are still held privately. Algolia ranked 448th on their 2019 list after debuting in 2018. They also appeared on the magazine's Best Workplaces List in 2019. With revenue of $31.4 million in 2018 and a 3-year growth rate of an astounding 1,015%, these two French entrepreneurs look destined to see their company continue to grow.
With much of their work involving providing efficient search functionality on major websites, the company's client list includes Dior, National Geographic, Stripe, Adobe, and Twitch. 
Algolia : Ensuring Functionality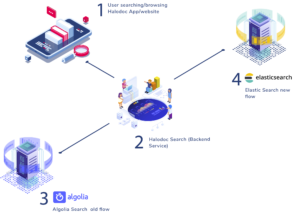 For many website users, the issue of finding the correct information can often be a frustrating experience. Irrelevant results are usually the norm and, depending on the company or website in question, many users may just head to a competitor's site instead. This is where Algolia come into the equation. This is an issue that is exacerbated on mobile phones so Algolia's initial experience in working to ensure the functionality of offline mobile searches has been a true foundation stone for the work they do today. It was that early experience that led to their successes when they moved from mobile-based to cloud-based. With speed being of the essence for companies and users, Algolia measures results in milliseconds rather than seconds or even minutes. 
Sound Investment?
After their early successes, many investors began to look closely at Algolia as even the most promising startup needs capital to grow and expand. In 2015, Algolia received $18.3 million in Series A investment from California-based – and technology focused – venture capital firm, Acccel. A further $53 million in Series B investment came from the same firm in 2017 as they saw their Series A investment producing highly positive results. 
It was that latter investment that gave Algolia's growth a strong boost. 2018 revenues saw a 100% increase year on year to $40 million, they passed the 6,000 customer mark, and also passed the 300 employee mark. Between 2016 and 2019 the amount of small websites (in the top 1 million list) using Algolia's service went from 632 to 5,168, and to 197 in the top 10,000 websites list. CEO and co-founder of Algolia, Nicolas Dessaigne estimates that the total market for the type of products and services they provide stands at around $10 billion, good news for the company and for their investors, especially when that market continues to grow every year. 
Algolia's Products Are Free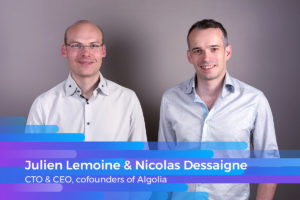 Dessaigne sees their main competitors as being companies with internal teams developing and improving functionality. There is a certain irony to this as many of these teams will be using open source tools to develop their systems. Algolia's systems have long been used by open source projects such as Laravel and WordPress CMS. Using Algolia's products are free to these projects and Dessaignes sees this crossover as useful both from a marketing perspective and from a way of helping the tech community. And he is not overly worried by companies developing their own systems as he does not believe they can come close to their systems and will also need ongoing maintenance and improvement, two things Algolia offers to all their customers. 
And the CEO does not see Google as competition as they work in a different way to Google and deal mainly with B2B customers as well as using very different data to the tech giant. 
With such impressive financial results, steady and sustained growth in customers, and an expanding market, the future looks bright for this French-owned company. 
Photos : Twitter / siliconangle.com/ blogs.halodoc.io/ tech.eu/
---
---
---