Elizabeth Holmes, CEO, Theranos: The World's Youngest Self-made Female Billionaire
Elizabeth Holme is the world's youngest self-made female billionaire and the founder of revolutionary medical technology firm Theranos. 
Developing revolutionary medical technology at Theranos
At the age of 31, American entrepreneur Elizabeth Holmes is the world's youngest self-made female billionaire, estimated to be worth $4.5 billion. She is also part of a new wave of socially motivated entrepreneurs who are putting social good at the root of their for-profit companies, blending the barriers between business and non-profit.
Bringing together hardware, software, and science Holmes is the founder of revolutionary medical technology firm Theranos, which aims to revolutionise the way we test for disease. She has developed a pinprick blood test, and a network of testing facilities, labs, and wireless results delivery, that is cheaper, more accessible, more convenient, and less painful than traditional tests. Compelled to develop a method to detect disease early following the death of her uncle from cancer, Holmes sees her blood test as a way to democratise healthcare: empowering individuals to make educated decisions about their healthcare, enabling the early detection of disease, and allowing for preventative healthcare.
Indeed, a simple blood analysis can be used to measure cholesterol or glucose levels, or test for pregnancy, liver problems, diabetes, sexually transmitted diseases, and the early signs of many other diseases. But today 40%-60% of Americans are not compliant with basic tests ordered by their physician due to concerns over cost, fear of needles, or proximity to testing site; healthcare is the leading cause of bankruptcy; and the lack of healthcare is associated with finding out too late that someone is ill. These are all things Holmes wishes to end.
"This is about being able to do good," she says. "I don't want to make an incremental change in some technology in my life. I want to create a whole new technology, and one that is aimed at helping humanity at all levels regardless of geography or ethnicity or age or gender." She is also aiming to disrupt a $75 billion industry, and help it grow by a further $125 billion.
An exceptional mind
An exceptional student, in high school Holmes launched a business to distribute C++ software to Asian universities and studied three years of college level Mandarin at Stanford. She started Theranos just a few years later, aged 19, in her second year at Stanford University. In her first year, she studied microfluidics and nanotechnology, and explored "lab-on-a-chip technology" which allows multiple measurements to be taken from minute amounts of liquid on a single microchip. She then spent her summer "holiday" at the Genome Institute in Singapore testing for severe acute respiratory syndrome (SARS) via traditional methods, which she concluded were time-consuming and disorderly.
She filed her first patent on her return to Stanford (it was ultimately approved in November 2007), and by March 2004 had dropped out of her studies altogether and incorporated Theranos, a combination of the words "therapy" and "diagnosis". By December of the same year, she had raised $6 million dollars to start work on her diagnostic test. And the company now has 700 employees, a Silicon Valley headquarters, and a 265,000 square foot facility in Newark, California, that manufactures the blood-testing device.
Benefits of the Theranos pinprick blood test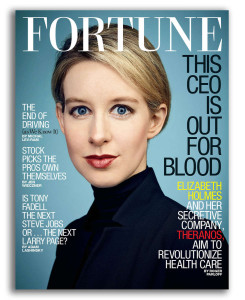 The test works by extracting blood without a syringe, with a virtually pain-free prick of the finger, which is then collected it in a tiny vial – or "nanotainer". The Theranos labs can then run as many as 70 different tests from that one sample of 25 to 50 microliters of blood.
The tests, of which there are almost 1,000, cost around 50% less than the standard Medicare and Medicaid reimbursement rates. For some tests this figure is 90%. For example, the Theranos cholesterol test is $2.99, compared with the $50 plus cost of a traditional test. Blood typing is $2.05; iron is $4.45; and a complete blood count and electrolyte test costs $10.17. Holmes says that if all tests in the US were performed at the same rates, it could save Medicare and Medicaid $98 billion and $104 billion over the next decade respectively.
Theranos is currently working to make its testing available to several hospital systems. So far testing is available in 41 wellness centres across the US as part of a partnership with the country's largest pharmacy chain, Walgreens. The chain's further 8,200 locations will follow. Theranos is also in discussions with the Cleveland Clinic, Duane Reade stores, and CVS Pharmacy, as Holmes envisages putting Theranos "within five miles of every American."
Will Theranos prove to be hype or reality?
However, Theranos is not without problems: some ex-employees recently claimed that the success and accuracy of lab tests conducted on the Theranos Edison machines have been exaggerated. Theranos replied saying: "Today's Wall Street Journal story about Theranos is factually and scientifically erroneous and grounded in baseless assertions by inexperienced and disgruntled former employees and industry incumbents." The FDA is investigating. And the saga has served to raise suspicions that Theranos is more hype than reality.
This won't be the only challenge. For example, will insurance firms be willing to pay for patient-ordered blood tests? Will Theranos insist that test results are sent to doctors? If so, will patients want their doctors to know? And will Theranos be held to the same standard as these doctors who are legally obligated to follow up on abnormal test results?
With a $9 billion valuation, funding from investors including Larry Ellison, and board members including former General James Mattis, and former secretary of state Henry Kissinger, the expectations are high. And Silicon Valley's hot shot startup now certainly has something to prove.
---
---
---