Art Prices Boom As a New Class of Connoisseur Emerges in Developing Economies
The global super rich are pushing art prices sky-high.
A $142.4 Million Triptych
Last November saw Christie's propel modern art to a new price high. Raking in more than $782 million in total – $691 million of that in one evening sale – their post-war and contemporary art auction became the highest-grossing ever held. In a night that broke ten records, the star lot was undoubtedly Francis Bacon's triptych, "Three Studies of Lucian Freud" (1969). It sold for over $142.4 million, the highest sum ever paid for a piece of art at auction. Jeff Koons' "Balloon Dog" (Orange) also caused a storm, selling for $58.4 million; a record figure for a living artist at auction.
For a world coming out of a global financial crisis, these prices seem astronomically high.
A New Class of Billionaire
But 2013 has seen more billionaires than ever before. The Wealth-X and UBS Billionaire Census 2013 – the first ever global study of its kind – counted 2,170 billionaires across the world. And holding a total net worth of $6.5 trillion, the world's billionaires have added $226 billion to their assets since 2009.
The Wealth-X census also reports new money coming into play. It reveals Asia contributed the largest number of 2013s new billionaires. And forecasts that Asia will generate more ultra-high-net-worth individuals (UHNW) and wealth than both Europe and the United States within the next five years. It also reports that the major emerging markets of Latin America and the Middle East are increasing their presence.
And a New Class of Art Connoisseur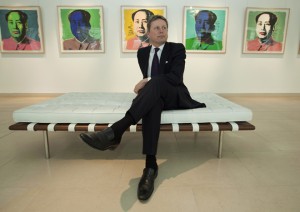 And so it is unsurprising that art market analysts have put the record breaking auction figures down to the emergence of UHNW overseas buyers. Jussi Pylkkänen, chairman of Christie's Europe and the auctioneer at the record breaking evening sale, told the New York Times "There were more players from the New World than ever before". In fact Christie's registered bidders from 42 countries around the globe. They also, in a last-minute switch, moved the hotly contested Bacon to lot number 8a – an auspicious number in Asia.
Looking for a Safe Investment
But this new class of collector is not just claiming a badge of ultra-wealth. Throughout the financial crisis, whilst stocks have been wiped out and property prices pushed to rock-bottom, the art market proved itself a solid place to invest. Art also has the advantage that it can be sold across the world, in whichever currency the owner wants. It is therefore not dependent on any one single economy, and is protected from potentially unstable home currencies and economies.
And to make absolutely sure their art is a safety-net, these collectors are choosing wisely, investing in the big brand names of Andy Warhol, Rothko, de Kooning or Picasso. This new class of art connoisseur wants the tried and tested, and not a search for the next big thing.
---
---
---