Philippe de Moerloose, a leading entrepreneur in Africa
Having grown up in the Democratic Republic of Congo, Philippe de Moerloose is the founder of Demimpex (de Moerloose Import-Export) as well as one of the pioneers of modern African entrepreneurship. He has always been a firm believer of Africa's economic potential, long before the continent made its return into the international spotlight.
Philippe de Moerloose, the man who invested in Africa when the rest of the world was shunning away from it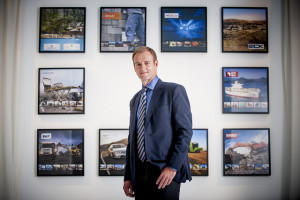 Named by Jeune Afrique as Congo's leading Belgian go-getter, Philippe de Moerloose founded Demimpex in 1991 – a Belgian cooperative society which activities focus on import-export. From day one Demimpex has been targeting the African markets, going against the popular stereotype that business cannot be made in Africa due to its endemic issues.
Twenty years later, he heads and manages SDA-SDAI, a consortium that deals in the automotive industry as well as construction, public works, mining and farming equipments across thirty African countries.
Philippe de Moerloose is also the founder of African Equities, his second financial holding company, based in Luxemburg. Its equity portfolio concerns primarily (as the name would suggest) the African continent. The company's large network of subsidiaries operates within the luxury and business hospitality industries, the mining, construction and metalworking sectors, and also deals with the refurbishment of roadways and the production of lime and cement. African Equities' impending projects are set toextend to other domains, such as the distribution of commercial goods.
Today, Philippe de Moerloose's group employs more than three thousand people across Africa, Europe and Asia. For the past 23 years the company has managed to maintain a strong yet stable economic and financial growth – the opposite of the economic gloom afflicting European markets.
If Philippe de Moerloose's success reflects the contemporary image of Africa as the continent of change and development, it contrasts very sharply with the gloomy economic prognoses from the company's early days. Throughout Philippe de Moerloose's entire career, it was his faith in the emerging African continent that gave the entrepreneur the glimpse of an opportunity where the others only saw the impossible.
De Moerloose's Import-Export: initial attempts and first challenges
Philippe de Moerloose spent his childhood and adolescence in the DRC. Fond of the country and its exceptional potential for growth and development and having recently graduated from the ICHEC Brussels Management School, he returned to Congo in order to begin his entrepreneurial endeavours. Given the small amount of its initial starting capital, his import-export firm trading automotive parts was facing its first challenges: to recruit a competent and a dedicated team, earn the trust of vehicle manufacturers, meet the needs of African consumers… to name but a few.
Making the most of his African-European upbringing and great interpersonal skills, Philippe de Moerloose managed to overcome the most difficult yet critical first trials that any start-up face in their early development stage. Knowledge of the field and fluency in Swahili turned out to be his most crucial assets. Philippe de Moerloose then began to gradually move his activity into sales of automobiles and industrial equipment, expanding his business across the adjacent countries.
An external development strategy that eventually bore its fruits
The true take-off of Demimpex is a result of a bold strategy implemented by its leader, for whom hard work and unrelenting passion are contagious. In the mid '90s the DR Congo was stricken with a series of difficulties when a number of managers abandoned their posts, having lost faith in the future of their companies. Once again sailing against the wind, Philippe de Moerloose decided to buy several of them. His strategy paid off – he managed to revitalise the companies and integrate them into Demimpex, allowing it to reach new critical mass.
Driven by its dream of international expansion, Philippe de Moerloose earned the trust of automobile brands and earned the permission to distribute their vehicles. From then on, holding on to very high professional standards and a wide network of distributors, Demimpex has been experiencing regular periods of fast external growth. Philippe de Moerloose has become an expert in acquiring local suppliers and integrating them into his international network.
The finest service
For Philippe de Moerloose top-notch quality is essential. Thanks to his company's efficient logistics and a high level of support, he is able not only to satisfy both his providers and clients, but also earn their loyalty. He is widely recognised for providing an after-sales service – a must-have in Europe, yet a novelty in Africa. It is the little things that have given de Philippe de Moerloose a competitive edge, especially across lesser developed sectors.
Unrelenting entrepreneurial spirit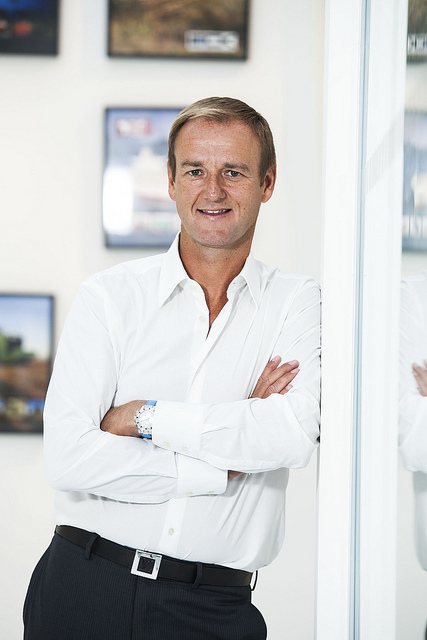 Today, SDA-SDAI and African Equities no longer have much in common with the small cooperative society founded by Philippe de Moerloose right after he had graduated. After its significant growth, Demimpex was split, renamed and mostly integrated into Tractafric Motors Corporation – a joint venture owned by Philippe de Moerloose's consortium SDA-SDAI and the second largest Sub-Saharan African automotive distribution group: Optorg-Tractafric. SDA-SDAI has also engaged in additional activities thanks to the creation of DEM Group and its African subsidiaries (the sole representative of John Deere Construction & Forestry and Hitachi vehicles in about twenty countries), as well as SMT Group (the exclusive importer of Volvo brands across fifteen regions) and SDIAG (the official distributor of John Deere Agriculture tractors in Central Africa).
While Philippe de Moerloose's company has its group purchasing organisations located in China, its logistic platforms can be found in Antwerp and Dubai. According to a recently compiled SDA-SDAI grouptab, the company's exponential growth is set to continue without interruptions. Nevertheless, Philippe de Moerloose plans on upholding his exemplary spirit, his faith in Africa and his mission to further conquer the continent. The next steps ? Eastern Africa and Maghreb – both very promising in terms of distribution volume.
A versatile go-getter such as Philippe de Moerloose together with a long-term vision – it would be no surprise to one day see SDA-SDAI thriving across Brussels, Paris, or even New York.
---
---
---