Mathilde Lemoine : "the economic shift we have yet to manage"
Mathilde Lemoine, a french economist, believes that the French Economic environment is becoming more and more anxiety inducing.  Pursuing accounting objectives and the implementation of a monetary policy without theoretic references or previous history of success supports the idea that the current situation of citizens will continue to deteriorate.
Accelerated Depreciation in Economics
She states that the origin of the loss of hope is due to the persistence of an erroneous diagnosis which is what drove, until recently, the rejection of two measures needed to change the paradigm. Accelerated depreciation, which is a tax deduction over a year instead of several years and investments and training for low-skilled people.
Many people are aware of the fact that growth has three main drivers: capital, labor and productivity. Without all three working together the economy will rapidly deteriorate. In France,  the mistake is a lack of investment because the capital stock is aging. As a result, it loses marginal productivity. In other words, they will have to find a lot of money to correct the errors made in order to recover and in order to do so, job creation will have to suffer.  In addition, salaries will decrease, especially those of  less-skilled workers. They are seeing their competencies become obsolete due to changes in technology and the economy yet they do not receive any formal training to help them. Some employers believe that hiring new employees prevents economic recovery however this idea has been disproven by all economic theories. Lastly, the lack of investments and insufficient growth  of professional and vocational skills block the diffusion of innovations and mortgaging potential for growth.
Successful in the United States
Introducing accelerated depreciation will allow a reduction in usage costs and  increase the profitability of productive investments. America has already tried and tested this method and had good success in 2002.  This tax credit was created to increase the profitability of  short-term investments and should be implemented in all Eurozone countries facing the similar economic problems. Mathilde Lemoine believes that in order to not degrade the public deficit, member States could securitize the additional tax from the amortization in one year instead multiple years.
Meanwhile, a training objective for unskilled laborers could be decided at European level with obligations of means based on the model of the "Youth Guarantee", which is meant to reduce the number of unemployed youth without education and who are no longer in school. Such actions will finally give the feeling that economic policy is not condemned to run out after the little economic growth.
Unfortunately, the choice that has been made so far is to push the monetary policy beyond the unthinkable to ensure that borrowing rates are so low that they become lower than the marginal profitability of capital, which would push companies to invest. Thus, rather than acting on the causes of the problem, the action focused on the symptoms whose consequences are impossible to comprehend due to lack of theories and historical precedents. This only adds to the collective anxiety and increases the temptation to fall back on what seems comprehensible.
In conclusion, the growth and improvement  pertaining to  the French and Eurozone economy would be easily achieved via accelerated depreciation.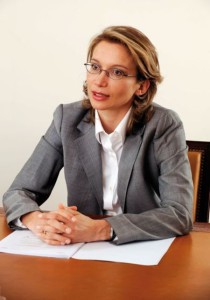 About Mathilde Lemoine
Mathilde Lemoine is a French economist, born on 16 September 1969. She received her bachelors from Université Paris IX Dauphine. She also earned a DEA in Applied Economics, Economics and International Finance at the Institut d'Etudes Politiques de Paris in 1993 and further went on to earn her PHD at sciences économique in 1997.
She currently heads the Department of Economic Studies and Market Strategies at HSBC France. She is also a member of the High Council of public finances. She is a macro-economist, specialist of the public economy and national and international conditions. She also regularly writes about real estate and financial markets.
---
---
---