John Dodelande : Art by Attraction
At just 29 years old, the French entrepreneur John Dodelande, is part of the new generation of art collectors. His sought-after address book and impressive resume have enabled him to collect and promote Chinese contemporary art since 2008. John Dodelande prides himself on working completely independently from other buyers but developing special relationships with galleries around China which give him the opportunity to be, as he describes it: "I'm free and independent, both in my choices and in my way of doing things."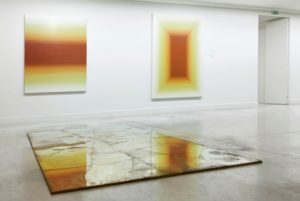 John Dodelande welcomed us at the Dimitri Shevardnadze National Gallery in Tbilisi, Georgia the venue of the "Constellation" exhibition where his favorite artist, Zhao Zhao's work was displayed. One might ask how a young art collector from France finds himself representing a Chinese artist at an exhibition in Georgia? In the case of John Dodelande, his art adventure stems back from his curiosity. As he mentions, "I don't come from a family of collectors. Above all, I was raised to be curious about everything – travel, people, art…".
A college dropout, John Dodelande learned about the business and art worlds on his own. After receiving his high school diploma, he began shadowing his mentors who not only taught him about the art world but also introduced him to the closed circle on art connoisseurs. These encounters were a turning point and pushed him to dedicate his life to collecting art. "I decided to collect when I realized that beyond being a mere participant on the market, I had a desire to put together a collection that would make a statement. Collecting is also an art form because of the choices you make; it involves creating something without being an artist."
Jean-Marc Decrop's mentoring especially had a lasting impact on John Dodelande as he is the one who introduced him to contemporary Chinese art. "I find the new generation of Chinese artists very interesting, they talk about the problems of the world today. These are the artists that did not grow up under the shadow of Mao. The Cultural Revolution is not their cultural touchstone, the Chinese government is not the source of their politics, and, indeed, China is not necessarily their focus. These artists are global in their thinking and global in their motivation: they are driven by humanity, technology and energy." His latest collaboration reflects the social commentary found within the Chinese contemporary art. John Dodelande paints Georgia as a bridge  through which a East-West dialogue can be established. While the exhibition will head back East toward Azerbaijan and Kazakhstan in mid-September 2017, some of the artists' works will also be shown at the Guggenheim Museum in New York.
Today, John Dodelande describes his current occupation as a passion and he now spends the majority of his time traveling and discovering new artists. In the past year, he has made over one hundred trips to attend art fairs and meet new artists to exhibit around the world. He spends his free time scaling the world's most exotic tops: Mount Damavand in Iran, Ojos del Salado in the Andes, Carstenz Pyramid in Western Papua… More than an art aficionado, John Dodelande represents this new generation of nomadic entrepreneurs of the world and global citizens, bringing together cultures from around the world thanks to their work.
---
---
---